by Austin DzikiAustin and his re-purposed ocean trash
Fieldwork rarely goes exactly as planned, we are no exception to this. Our boat recently developed a leak in the fuel tank and we had to send it in to port immediately for repairs. All is well though because this gave us a great opportunity to catch up on our data processing. At this point in our field season we have identified 34 whales (on track to hit our target of 100) of which only 8 are whales that match our catalog records.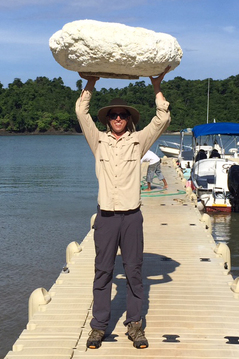 I also took this opportunity to build a makeshift buoy that we can use to collect acoustic data. Betzi and myself found a large piece of Styrofoam with a cement bottom floating out in the ocean and decided to turn the unfortunate truth of ocean pollution into an opportunity for science! The giant piece of garbage also makes an excellent buoy for our conditions because it will disguise the hydrophone as trash and hopefully prevent any passing boats from getting a little to curious and taking it.
Don't worry though, we strike a fine balance between work and play out on the island. Betzi, Ursula, and Kata had just arrived on the island today and since the boat was not  back yet we had to make the most of the day. We kayaked around the island to a nice secluded beach, found a cold freshwater stream that poured out over the cliffs right onto the beach, and even did a bit of snorkeling. Don't think that we missed an opportunity out on the water to listen with our hydrophones though! Unfortunately, all we could hear was the surf against the rocks and the crackling of shrimp.
Luckily for us, Ursula, in addition to being a humpback whale biologist, happens to be a world-class salsa instructor! So of course, after lunch we had our very own salsa lessons. You wouldn't think that six little steps would be so tricky. We learned (I attempted to learn) four different salsa moves and then string them together. I think I make a better intern…